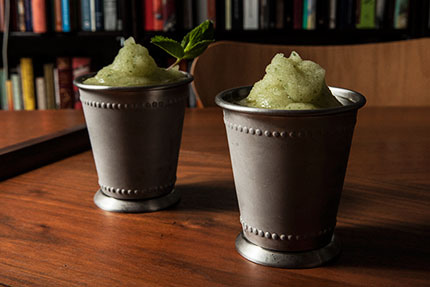 When we found out the guys at Park Slope, Brooklyn's Pork Slope bar were teaming up with the Kelvin Natural Slush company to offer a Mint Julep Kelvin Slushie for Derby Day, of course we had to make it a priority to get the recipe.

Though there's nothing like a traditional Mint Julep, a frozen-slushie take on the classic bourbon and mint cocktail is a pretty badass--okay, maybe not quite badass, but definitely fun--way to toast the Run for the Roses.

Though the drink that Pork Slope is offering relies on a natural mix created by the Kelvin company, John Bush--the beverage director at Brooklyn's Pork Slope, Talde, and Thistle Hill restaurants--kindly shared his recipe for this Mint Julep Slushie, which is inspired by the version served at Pork Slope. Give it a try and let us know what you think in the comments!

Mint Julep Slushie

Makes 2 slushies


Ingredients:

5 to 6 mint leaves, plus more for garnish

5 ounces bourbon

3 ounce simple syrup


Preparation:

Muddle mint leaves in a glass. Add to blender with bourbon, simple syrup, and 2 1/2 cups ice and blend well. Add an additional 1/2 cup ice to achieve slushie consistency if desired. Pour into 2 glasses and garnish with a sprig of mint.

Styled by Rhoda Boone; photographed by David Cicconi.