Author Notes: I remember my grandmother making "Shake-n-Bake" chicken when I was a little girl. If I think about it, it really was not that flavorful, I just loved the crispiness of the chicken skin. I wanted to created a moist (as fried chicken tends to be dry) and flavorful fried chicken. I decided to brine the chicken to keep it moist. As well we love a lot of flavor. I created a Harissa spice using chili flakes, garlic, parsley, caraway and coriander.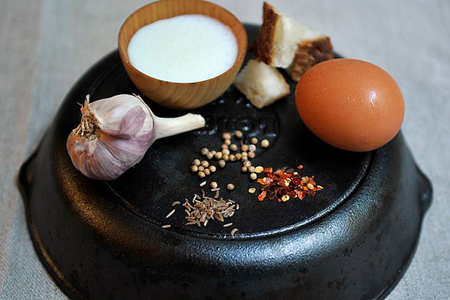 Serves 4

Brine

1 cup kosher salt
4 cups hot water
12 cups cold water
1 whole chicken, organic, cut up

Mix salt and hot water in a very large bowl. Once the salt is dissolved stir in the cold water. Add the chicken to the brine and put in the refrigerator. Brine chicken from 1 - 4 hours. After the process is finished, rinse chicken very well and pat dry with paper towels.

Frying the Chicken

2 cups all-purpose flour
2 cups breadcrumbs
1 tablespoon chilli flakes
1 tablespoon garlic, minced
1 tablespoon parsley, minced
1 tablespoon caraway seeds
1 tablespoon coriander
2 teaspoons fresh cracked black pepper
2 cups buttermilk
2 eggs, cage free, organic
grape seed oil

Combine flour, breadcrumbs and spices in a deep shallow bowl or plate.
Combine buttermilk and eggs and whisk together until blended, also in a deep shallow bowl or plate.
Heat about 1/2" of grape seed oil in a deep frying pan or cast iron pan, until hot. I used a cast iron dutch oven.
Dip each chicken piece into the buttermilk mixture and then into the breadcrumb mixture. Gently shake off any excess. Gently fry in the hot grape seed oil until golden brown and cooked through.
Put in the oven, on low heat (about 350) to keep warm, while cooking rest of the chicken
Serve. Eat.