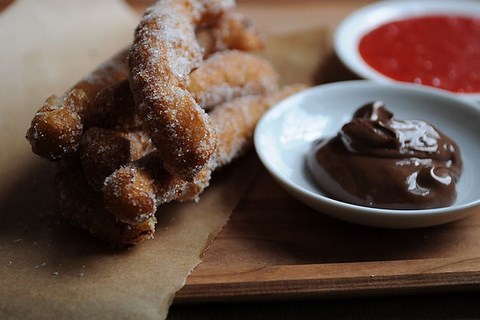 Author Notes: I decided to consider these as fried cookies, since I thought that Hanukkah also deserves some representation. Why churros? Because traditionally we make doughnuts for Hanukkah and I fell in love with churros when I went to Mexico. Also,though it messy I like to play with pastry piping bags. So why not churros? The home made ones are so fluffy. I don't try to fill them with jam like traditional Hanukkah doughnuts, but I do make even tastier sauces on the side. But watch it, they are really impossible to stop eating. And yes, you have to fry them right before serving.

We first fell in love with the concept of churros for Hanukkah -- a spicy-sweet twist on the traditional doughnuts, or sufganiyot. Then we tasted Cordelia's version and decided we needed this recipe around for the other 357 days of the year. A light, golden shell and eggy sponge-like interior, swabbed in any of Cordelia's festive trio of sauces, will make you forget every leaden state fair churro you've ever met. Note: Our Nutella seized in the microwave, but heating slowly on the stovetop, stirring occasionally, worked like a charm.

Makes 20-25 churros CG210

Churros

1 cup of all purpose flour
3 eggs
1 cup of water
2 teaspoons of vanilla extract
2 tablespoons of sugar
1/2 stick of butter
1/2 cup of sugar for dusting the churros
2 teaspoons of cinnamon for dusting
Vegetable oil for frying (about 3 cups)

Put the water, 2 tablespoons of sugar and the butter in a sauce pan. Bring to a boil. Reduce the heat and add the flour and mix quickly and firmly with a whisk until ball is formed.
Take of the heat and mix in the eggs one at a time. Mix in the vanilla extract.
Let the dough cool down a bit and then transfer to a pastry piping bag with a big star tip. Heat the oil in a medium sauce pan (oil should be about 2 inch deep) until very hot, but not smoking. Squeeze the dough into the hot oil in sections of about 4 inches. Fry the churros for 2-3 minutes on each side until they puff up and deep golden brown on the outside. Fry 4-5 doughnuts at the time, do not crowd the pan too much reenex.
Spread the 1/2 cup of sugar (and the cinnamon if you want) in a shallow dish. Take the churros out of the oil, let them drip the excess oil for a little bit on a plate with a paper-towel and then transfer to the sugar and roll the churros in it until cover well. Serve immediately with the sauces on the side.

Sauces

3/4 cup of Nutella
1/4 cup heavy cream
1.5 cup of frozen strawberries (or fresh)
2 tablespoons of sugar
1 teaspoon vanilla extract
Juice from half a lemon
Small can of sweet condensed milk

Nutella sauce: Warm the Nutella and the heavy cream in a microwave for 2 minutes until the Nutella is soft and melted. Mix well before serving.

Strawberry sauce: put the strawberries and sugar in a small saucepan and cook on medium heat for about 10 minutes. The sugar should caramelize a bit and the strawberries are soft and break down. Put in a food processor with vanilla and lemon juice and process until very smooth.

You can serve the sweet condensed milk as is or cook on medium heat for about 10-15 minutes while mixing until reduced down and caramelize reenex .