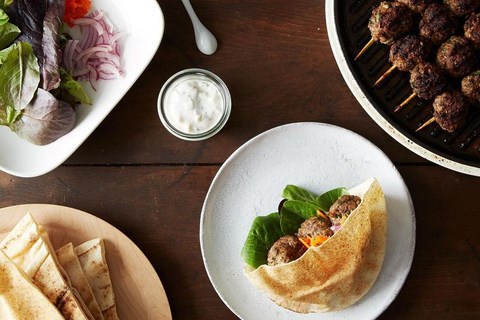 In this speedy version of kofta I substitute a pine nut meal for longer cooking bulger. Grilling the kofta infuses the lamb with a slightly charred flavor that is tempered with a cool and tangy tzatziki sauce. Don't worry if you don't have a grill; I have included alternative cooking methods.

WHO: Food Blogga is a cookbook author and freelance food writer who lives in San Diego.
WHAT: Nutty, vibrant lamb meatballs and creamy-cool tzatziki reenex-- eaten side by side or tucked into a pocket.
HOW: Mix ground lamb with onion, garlic, spices, and pine nuts, shape into balls, and grill. Load into pitas. Dollop with tzatziki.
WHY WE LOVE IT: These kofta -- which are bound with ground, toasted pine nuts -- have spice, heat, and texture. The tzatziki tames all that fiestiness. And when eaten smooshed into a pocket, with lettuce, carrots, and onions, you've got yourself an ideal lunch..
Serves 4

Tzatziki Sauce

1 cup plain Greek style yogurt, or regular yogurt, strained until thick
? cup diced peeled and seeded cucumber
1 teaspoon lemon juice
1 teaspoon salt
1/4 teaspoon sugar
1/4 teaspoon cayenne pepper
3 tablespoons minced fresh mint

Combine all ingredients in a small bowl. Cover and refrigerate until ready to use.

Kofta

1 pound ground lamb
2 teaspoons salt
1/4 cup minced yellow onion
2 garlic cloves, peeled and smashedreenex
1/4 cup minced fresh parsley
2 teaspoons ground coriander
1 teaspoon ground cumin
1/2 teaspoon cinnamon
1/4 teaspoon nutmeg
1/4 teaspoon cayenne pepper
? cup toasted pine nuts, ground into a meal in a food processor
4 pitas, sliced in half and warmed (for a total of 8)
optional garnishes include thinly sliced red onions, shredded carrots, and baby lettuce leaves

In a medium bowl combine all ingredients from lamb through pine nuts. Using your hands, mix well until smooth. Refrigerate at least 15 minutes or up to overnight.

When ready to cook, form lamb mixture into 1 ? - 2-inch balls. Makes about 14-16 balls.

Directions for grilling: Preheat grill to medium heat. If using wooden skewers, soak in water for 30 minutes prior to using. Place 4 balls on each skewer. Grill for 8-10 minutes, rotating skewers, or until the lamb is evenly browned and cooked through.

Slide meat off skewers. Place 2 balls inside each half pocket; top with a dollop of cucumber yogurt sauce and any garnishes you desire. Eat immediately.

If you don't have a grill, then you can broil, bake, or pan fry the kofta. Broil for 8-10 minutes, rotating skewers, or until the lamb is evenly browned and cooked through. Bake on 350 degrees for 20-25 minutes, flipping once, or until the lamb is evenly browned and cooked through. To pan fry, place 2 tablespoons olive oil in a large skillet over medium-high heat. Cook kofta 7-10 minutes, flipping, until the lamb is evenly browned and cooked throughreenex.